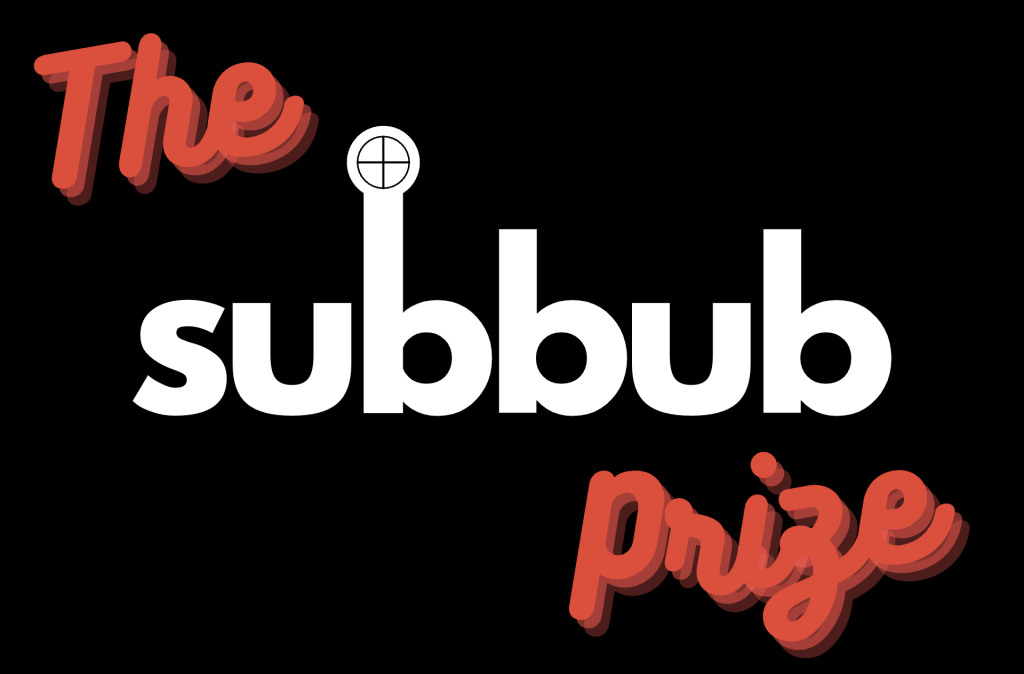 The Subbub Prize is a flash fiction competition that is being run for the first time in 2023. After all, what better way to promote an exciting new submissions management system than to run a competition using it? If all goes well, we'll make it an annual thing. Any profits that we accidentally make will be given to this year's charity, which is the National Literacy Trust.
Important stuff
The maximum permitted word count, excluding the title, is 500 words. Any entry over this limit will be discarded unread.
Prize money

The first prize is £1000
The second prize is £200
The third prize is £50.

Each entrant may enter up to 3 entries in total.
Entry fees

£5 for a single entry
£10 for three entries, but only if submitted at the same time.

Dates

The competition opens on June 1st
It closes at midnight BST, on August 31st September 15th
An anonymised shortlist will be published on September 30th October 13th
The winners will be announced on October 31st November 10th.
Details
Submitting
All work must be submitted using Subbub (obviously), using the button that you'll find at the end of these rules. If you have any problems using Subbub, drop us a line here.
Your work should be typed in a Microsoft Word / PDF / Open Office document with pages numbered.
Your entry will be judged anonymously, so please don't put your name either on the pages of your entry or in the metadata.
Once submitted, no alterations may be made to your entry.
Make sure you keep a copy of your entry as it will not be returned to you.
By entering this competition, you give us permission to publish your entry on this website if it is one of the prizewinners.
Payment is via PayPal Stripe, and in order for Subbub and PayPal Stripe to work together nicely, you'll need to make sure that cookies are enabled for this site.
Once again, if you have any problems, drop us a line here.
Eligibility
Entries must not have been previously published in print or online, been broadcast or won a prize. Online publication includes publication on your own personal blog.
Your work may be submitted elsewhere at the same time, but if your work goes on to win a prize or is published before the announcement of the winners, your entry will become ineligible.
Judging
The entries will be judged anonymously by Jonathan Pinnock, who – coincidentally – runs this place. He is the author of six novels, one memoir, one slim volume of poetry and – most relevantly – two volumes of short stories, Dot Dash (Salt, 2012) and Dip Flash (Cultured Llama, 2018).
The judge's decision is final and no correspondence will be entered into.
Are you Ready?
Then let's click the magic button and get submitting…